The concept of Algo trading is not new as both stock investors and traders have been using it for quite some time. In the field of stock trading, choosing the right stock for investment at the right time has the key to success. Therefore, it can be derived that decision-making has a major role to play in any stock investment decision. This is where algorithmic trading is carried out with the assistance of advanced technology in the form of the best algo trading software in India.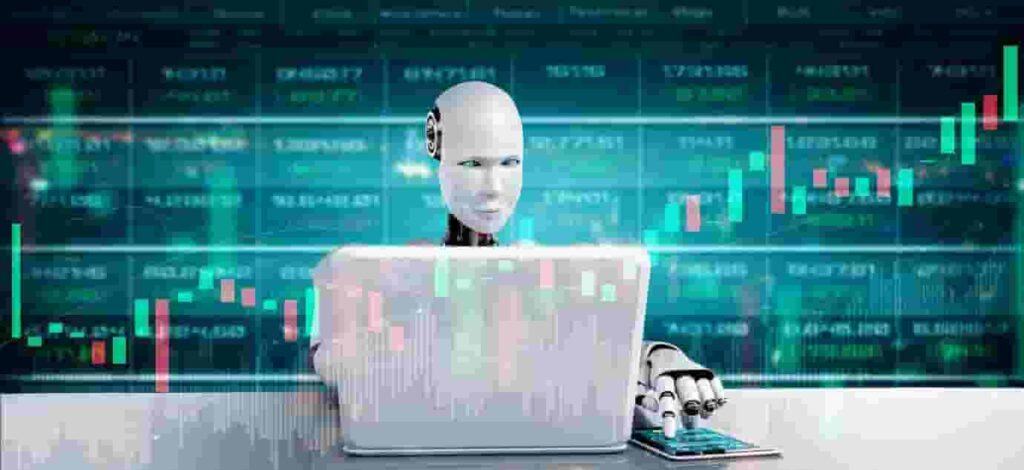 Every trader follows a specific buy and sell life cycle where he experiences emotional highs and lows based on his wins and losses. This significantly impairs his ability to make market decisions manually. A trader may transcend his emotional quotient and get rid of any biases in trading and emotional baggage from the past by using artificial intelligence.
Due to the expansion of electronic trading platforms and the growing usage of technology in the financial industry in India, algo trading is getting more and more well-liked. It is widely used by traders and investors in India to execute deals more quickly and effectively and to profit from market opportunities that may be hard to discover manually.
In this post, you will get to know the best algo trading software systems in India.
What is Algorithmic Trading?
The term "algorithmic trading" refers to trade execution procedures that fund managers often utilize to purchase and sell huge quantities of assets. These methods use automated formulas to detect market inefficiencies and lucrative patterns at a frequency and pace well beyond what people are capable of.
What was Algo trading started in India?
Although not entirely new, algorithmic trading is still in its infancy in India. SEBI Registered Investment Advisor algos, which have a variety of developed structures, rules, and participants, contribute for 70 to 80 percent of the total market volume internationally. Algorithms, which are comparatively easy to use and little understood, are still only performing at 50–60% volume in India.
Algorithmic trading was first employed only by institutions and brokers when it first began in India, circa 2010. The retail market now has free access to constructing algorithms, and the prospects are unlimited.
How algo trading is better than manual trading?
Speed, accuracy, and cost reductions are the main factors that make algorithmic trade more popular than manual trade. Algorithms can see patterns and make trades in a fraction of a second, outpacing human vision. When an algorithm is used, accuracy and precision are favorable since the computer will follow predetermined instructions. Additionally, the algo continuously analyses your orders without your knowledge, which results in a significant time reduction for trading at lower transaction costs.
What are the major advantages of algo trading?
One of the key advantages of algo trading is that it may assist traders in making better-educated judgments by examining a larger volume of data more quickly.
This can be particularly helpful for traders who lack the time or resources to manually analyze massive volumes of data. Additionally, algo trading may aid traders with carrying out deals more swiftly and effectively, which can be crucial in quickly changing markets.
Best Algo Trading Software Systems in India
We have highlighted some of the top algo trading software systems used by the majority of traders in India to assist you in selecting the best algo trading platform in India.
Zerodha Streak
Zerodha Streak, which is solely available to Zerodha customers, is one of the top algo trading platforms in India. Traders may manage and organize their trades while on the road. This powerful automated platform ensures you don't miss any trading chances with features like alerts, complicated strategy design, numerous time frames, dynamic contracts, and more.
Its primary features are:
Create up to five criteria for a strategy's activation
Support over 80 technical indicators
Paper trading offers novice traders a superb trading experience
Include a scanner to aid traders in-stock selection
Explore the many strategies provided by Streak for educational reasons
RoboTrade
SJR Infomedia Ventures Pvt. Ltd. is managing this best algo trading software in India. RoboTrade is a completely automated trading platform that connects to a number of trading platforms, including Ambibroker, Meta Traders, and others, and is built on API technology.
Through automated and manual trading, enables traders to test their own trading strategies. Through the use of AI and robotic understanding, the program enables fully automated trading in the NSE, MCX, BSE, and F&O markets.
Backtesting offers insightful information
The performer doesn't require immediate access to cash
Aligning cryptocurrency assets with the trader's account with a single click
Customizing risk management
Allocating money among traders
Active trading
Zerodha AlgoZ
One of India's top algo trading platforms, Zerodha AlgoZ was introduced in 2013. AlgoZ is a technical analysis-based tool for retail consumers. It is a whole Zerodha product that is constructed using algorithms. With this feature, traders may both back-test their strategies and automate their processes in real-time marketplaces. This is the best product currently available to support algorithmic trading.
Retail dealers can partially automate their trades using this platform. To completely automate the trades, however, one needs to sign up for the dealer terminal.
All widely used trading indicators available
Automation of strategies in the LIVE market
View of charts according to the user-defined time frames
Advanced backtesting features
Professional charting software analysis
MetaTrader 5
A multi-asset, multi-functional, institutional trading platform is MetaTrader 5. Despite being less well-known than MetaTrader 4, which is concentrated on the currency market, MetaTrader 5 offers trading in equities and commodities.
It offers additional services including integrated trading robots, a database of independent strategy authors, copy trading, and virtual hosting. It is available via web, online, and mobile versions. You may access the platform interface for free in 31 different languages by working with your broker. The best algo trading program for experienced day traders is this one.
Smart and intuitive interface
Wide range of analytical tools
Enables eight types of pending orders and 21 timeframes
Several asset classes included
Economic calendar, which is available as a part of the platform
AlgoTraders
AlgoTraders, one of the best free algo trading platforms in India, has experienced tremendous growth recently. Its most current version's Esper engine gives it the ability to operate at a breakneck speed. 5 lakh events may be handled by it per second. It also offers a fantastic trading experience with its straightforward user interface and reporting capabilities.
Its key characteristics are:
• High level of customization to allow the testing of various trading methods
• Use of dependable technologies such as Grain, Java, Spring, etc.
• Low-cost algo trading software in India
• Complete customer support backed by online training and documentation
AlgoNomics
Another free algo trading platform in India that enables users to test out different trading approaches. User-defined and pre-defined trading strategies are the two types that may be defined. Additionally, traders have the opportunity to halt, stop, or adjust their trading at any moment while experimenting with a variety of trading techniques.
Simple and quicker bulk trading
Provides in-built risk management feature
Simple access to pre-set trading strategies
Blitz Algo
Blitz Algo, which elevates algo trading to a new level, is one of the greatest algorithmic trading platforms in India. The platform allows for the speedy development, testing, and deployment of both simple and complicated strategies in the financial markets by qualified quant developers.
Traders may utilize Blitz Algo to increase the effectiveness of their trading execution and, as a result, their profitability by acquiring something known as alpha.
The main features of the Blitz Algo trading platform are:
Integrated pre-defined trading strategies such as blitz iceberg, blitz slice order, trend trader, etc.
Server-backed algo trading.
Trade checking can be availed on both mobile and desktop.
Create custom trading strategies, along with an option to execute pre-approved strategies.
Manual trading is also available
FlexTrade
FlexTrade, one of the top multi-asset execution management solutions, was founded in 1996. It enjoys broad acceptance among asset managers of FX derivatives, hedge funds, futures, and options, among others.
Users of FlexTrade have access to a wide range of adaptable, bespoke trading algorithms with support for many different currencies and assets.
The platform is built with powerful, high-performance algo engines to create trading strategies based on one security, multiple assets, cross-assets, and portfolios.
Wide range of customizable trading algorithms
Stable-income EMS for universal buy-sell organizations
Data-supported feedback for performance enhancement
Free access to over 50 exchanges
Dynamic algo metrics and limits
TradeTron Tech
TradeTron is considered among the greatest algorithmic trading platforms available in India. Retail traders typically utilize it to automate trading. Even if you are a newbie, using this tool and trying out various methods is straightforward. It is not essential to know Python or any other programming language to use this application. It takes less time to trade stocks automatically. The auto-generated signals can be utilized for buying, selling, or stop loss execution in a number of trading scenarios.
Allows non-coders to create custom trading strategies
Easy and fast backtesting
Easy subscription of top-performing traders
Subscription begins at Rs. 1000 per month
Presto ATS
Presto ATS is a platform to create, monitor, implement, and carry out automated trading algos utilizing the assets accessible in the Indian Exchanges, and it is supported by Symphony Fintech.
The platform gives experienced traders the ability to transact and explore strategic algo trading opportunities so they may respond quickly and expand financially. It offers a solid platform for deploying trading algorithms with direct market access and real-time market data.
Its major features are:
Offers countless algorithms created using the Presto studio.
There is direct market access for the NSE, MCX, and BSE
Transparent APIs for custom algorithmic techniques.
Engage at once with several marketplaces and data suppliers.
Monitor, manual order entry, control techniques, etc.
The Conclusion
By automating the process, algorithmic trading makes stock trading easier and more valuable than ever before, therefore it's important to pick the best algo trading software in India utilize that's affordable and has great features. In terms of functionality, uptime, pricing, and other factors, the aforementioned algorithmic trading software systems are the finest. Whichever one you decide is ideal for your particular stock trading needs is totally up to you.
FAQs – Algo Trading Software
What is algorithmic trading?
Algo trading, automated trading, and black box trading are further terms for algorithmic trading. The amount of human involvement in this sort of trading is minimal, and computer programs are employed to trade more quickly and in larger volumes in accordance with pre-established specifications.
What future holds for Algorithmic Trading?
The use of algo trading is anticipated to expand quickly on a worldwide scale. Globally, it is anticipated that a major increase in algo trading would be seen in both the derivatives and commodities markets.
What are the most widely used Algorithms for Trading?
The most widely preferred Algorithms for trading include Arbitrage Opportunities, Volume-weighted Average Price (VWAP), Index Fund Rebalancing, Time Weighted Average Price (TWAP), and Percentage of Volume (POV).
Is algo trading possible for individuals?
Every person who participates in the stock market has an equal opportunity to participate in algo trading.
How does algo trading work?
Algo trading is automated trading with little to no human intervention. Algo trading is the use of computer programs with pre-defined parameters to trade at a pace that is beyond the capability of a typical human.
What is the most effective strategy for algo trading to get profits?
Algo trading tactics differ from person to person. You may, however, develop your own cash, future, and option selling strategies using Indira Securities.